Four individuals medaled and two schools collected trophies at the 2019 MSHSAA Class 1 Golf Championships at Sedalia Country Club. South Shelby junior Kanon Kendrick entered the second day seventh, but shot a 74 to move up two spots and finish fifth in the tournament. Kendrick credits a one-under par front nine for helping gather some confidence.
The Westran Hornets finished second and for the second consecutive year in the tournament by shooting a two day total of 676. After entering the day as the leader, junior Trey Burton finished the tournament in sixth after posting a two day total of 152. Seniors Corbin Brockleman and Gage Bealmer were pleased to get collect another trophy, but were hoping for more.
The two finished 31st, and 61st respectively. Van Far trailed Westran by 16 strokes and finished third to collect a trophy. The third place finish is a two place improvement for the Indians. Van Far's Rylee Hanson finished in a tie for eighth in his first ever state tournament appearance.
Another individual making his first appearance in the state golf tournament was Paris' Konner Heitmeyer. The junior was thrilled to finish 14th and pick up a medal.
The individual champion in the Class 1 Tournament was Miller's Presten Richardson, who shot a two-over 142. Bishop LeBlond shot a 631 to take home the team trophy. You can find full results of all the Big K area golfers below:
CLASS 1 (at Sedalia CC)
Final Team Standings
1 Bishop LeBlond High School 316+315=631
2 Westran High School 333+343=676
3 Van-Far High School 337+355=692
4 Iberia High School 361+360=721
5 Mid-Buchanan High School 367+365=732
6 St. Vincent High School 368+366=734
7 Bloomfield High School 383+395=778
8 Windsor High School 391+392=783
Final Area Individual Results
5 Kanon Kendrick South Shelby 77 74 151
6 Trey Burton Westran 70 82 152
8 Rylee Hanson Van-Far 75 82 157
14 Konnor Heitmeyer Paris 81 82 163
15 Samuel Owens Calvary Lutheran 88 77 165
17 Adam Forrest Paris 83 83 166
24 Jayson Orr Van-Far 81 89 170
29 Ethan Goff Westran 89 83 172
32 Dylan Hemmerling La Plata 86 89 175
36 Corbin Brockleman Westran 87 89 176
41 Chris Ebbesmeyer Paris 88 90 178
41 Caleb Nagel Westran 87 91 178
45 Zane Allen Van-Far 89 90 179
48 Garett Green Salisbury 96 86 182
53 Elliott Hayward Salisbury 94 91 185
53 Colby Sims Marceline 90 95 185
55 Ashton Garnett Van-Far 92 94 186
61 Gage Bealmer Westran 100 89 189
64 Remington Feldewerth Louisiana 103 93 196
66 Jaden Wyant Putnam County 99 101 200
71 Cody Amen Schuyler County 99 106 205
82 Ethan Winders Van-Far 109 107 216
85 Delbert Harris Harrisburg 127 103 230
CLASS 2 (at Rivercut GC)
Final Team Standings
1 St. Pius X (Kansas City) 341+337=678
2 Whitfield High School 344+342=686
3 Father Tolton 355+342=697
4 Eldon High School 361+344=705
5 Palmyra High School 360+355=715
6 Kennett High School 360+370=730
7 California High School 372+363=735
8 Willow Springs High School 391+398=789
Final Area Individual Results
2 Christian Rischer Father Tolton Regional Catholic 78 70 148
6 Brayden Buffington Bowling Green 77 79 156
7 Gunner Stugart Missouri Military Academy 81 81 162
15 Joseph Fallis Father Tolton Regional Catholic 83 85 168
17 Grant Gabriel Macon 86 83 169
24 Parker Hartman Father Tolton Regional Catholic 88 83 171
27 Brock Bollin Palmyra 89 85 174
27 Jacob Webster Palmyra 84 90 174
39 Dalton Klocke Highland 90 89 179
39 Leon Peralta Missouri Military Academy 90 89 179
41 Ragar McKinney Palmyra 96 84 180
52 Brady Shively Palmyra 91 96 187
58 Noah Brooks Centralia 94 95 189
64 Adam Wiseman Southern Boone 91 102 193
70 Evan Janes Monroe City 102 95 197
80 Mason Burch Palmyra 108 98 206
85 Ryan Theede Father Tolton Regional Catholic 106 104 210
87 Luke Donner Father Tolton Regional Catholic 114 107 221
CLASS 3 (at Columbia CC)
Final Area Individual Results
12 Alexander Gentry Helias Catholic 77 79 156
22 Jay 'Drew' Higgins Helias Catholic 83 76 159
22 Larry 'Lane' Plunkett Helias Catholic 79 80 159
58 Ethan Johnson Helias Catholic 86 84 170
70 Owen Johnson Helias Catholic 87 89 176
CLASS 4 (at Silo Ridge GC)
Final Area Individual Results
18 Sean Minor Rock Bridge 73 81 154
18 Keith Schaezler Rock Bridge 78 76 154
41 William Hose Rock Bridge 81 80 161
41 Chase Knorr Rock Bridge 84 77 161
60 Ryan Choe Rock Bridge 80 86 166
81 Cole Deppe Battle 86 86 172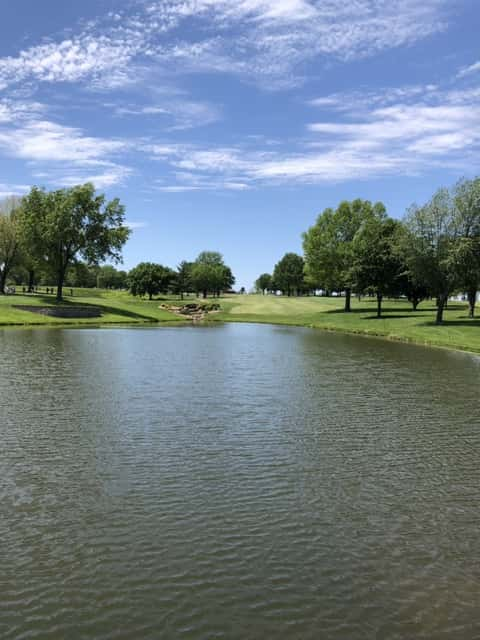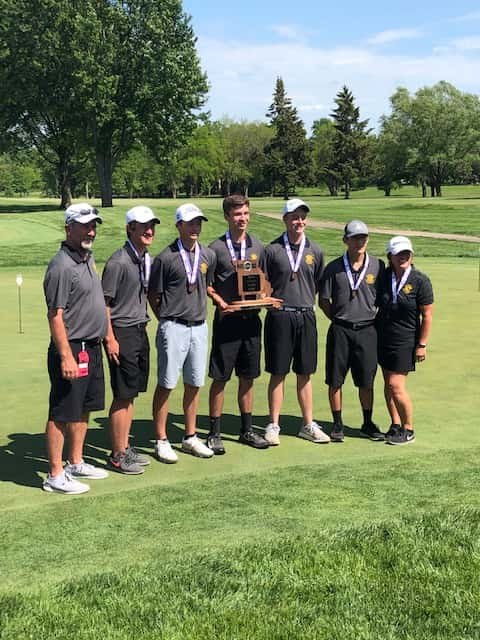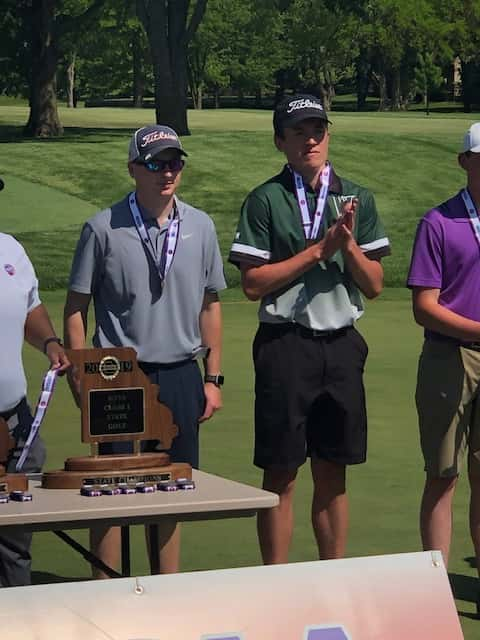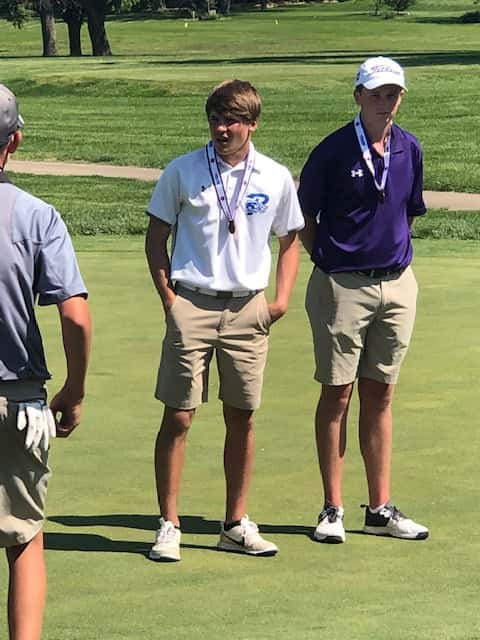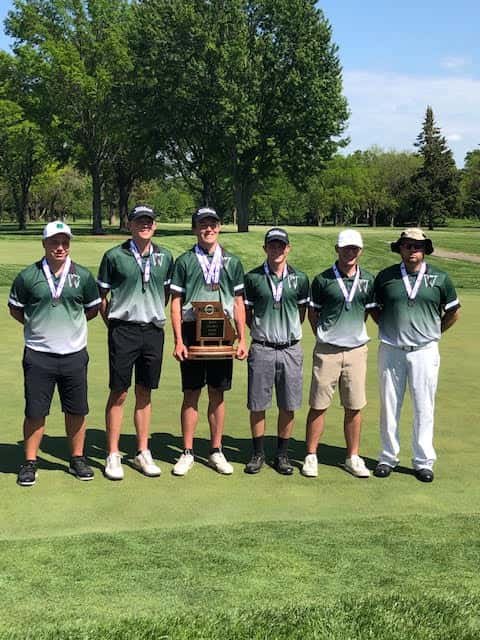 WebReadyTM Powered by WireReady® NSI