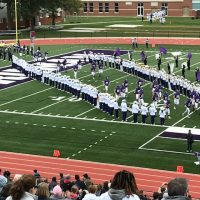 Truman dominated Lincoln for 3 and a half quarters but then had to hold off a late rally by the Blue Tigers for a 20-13 victory on homecoming Saturday at Stokes Stadium. Bulldogs quarterback Jaden Barr rushed for 165 yards and Jordan Salima added 105 more yards on the ground to help the Bulldogs move to 3-0 in the GLVC.
Truman racked up 351 yards on the ground and had almost 16 more minutes of possession time. A chunk of that came on a 96-yard drive that got the Bulldogs on the board early in the second….
Brad Boyer with the call on Superstation KRES and centralmoinfo.com. A Josh Scheiderer 21-yard field goal made it 10-0 at halftime. The Bulldogs doubled that advantage in the third quarter on a Salima 4-yard touchdown run and a Scheiderer 27-yard field goal. After three quarters, the Truman defense limited Lincoln to 58 yards of offense.
The Blue Tigers eclipsed that with a 77-yard TD pass from Henry Ogala to Blake Tibbs with 7:54 left to make it 20-6 after a failed two-point conversion. Another long pass to Tibbs set up Lincoln at the 2 with under 30 seconds left. Ogala hit Ezekial Lang from 2 yards out with just 5 seconds left. The ensuing onsides kick didn't travel 10 yards closing the door on Truman's 4th straight win.
Bulldogs coach Gregg Nesbitt said the defense controlled the first three quarters….
Nesbitt said his team needs to do a better job closing out games….
Coach Nesbitt and the Bulldogs improve to 4-3. Truman wraps up the series with Lincoln winning the last 23 games. The Blue Tigers drop to 2-5. Truman will visit Southwest Baptist next Saturday. We will have the game on KRES starting at 1:10.
Truman head coach Gregg Nesbitt: